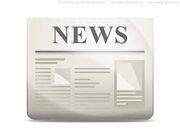 This is the
NEWS
page for this Wiki and a few others just so important events are recorded here and aren't lost or mixed in with other things they shouldn't be. Users may update the news sections freely as long as they don't use any foul language or Vulgarity. If Users wish to post news that has to do with events they are hosting they must put
USER NEWS
above the message they are typing as well as their Signature.
Lord Rose Thorn 17:50, November 3, 2011 (UTC)
FEBRUARY 1ST 2012Edit
HAPPY BIRTHDAY WILDLOUGH RHULAIN!!!
Ad blocker interference detected!
Wikia is a free-to-use site that makes money from advertising. We have a modified experience for viewers using ad blockers

Wikia is not accessible if you've made further modifications. Remove the custom ad blocker rule(s) and the page will load as expected.