This page shows all the current Art Contests and those that are done as well.Lord Rose Thorn 17:54, November 3, 2011 (UTC)
Lord Rose Thorn's ContestsEdit
First Art Contest.
Objective: Draw the main character Lord Rosethorn from the Fan Fiction The Badger and the Rose two ways. One has to be young Rosethorn another has to be Older Rosethorn when he rules the mountain Salamandastron.
End Date: This Art Contest ends on October 25th 2011
The winners of this Art Contest are Jump for her version of Older Rosethorn and Ruko for his version of Younger Rosethorn. CONGRATULATIONS!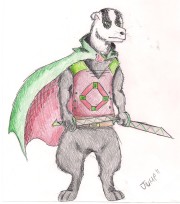 Niko Bank's ContestsEdit
Niko doesn't have an active Art Contest yet.
Redmight's Art ContestsEdit
Redmight doesn't have an active Art Contest yet.
SalemtheCruel's Art ContestsEdit
Salem doesn't have an active Art Contest yet.
Scotty Bluefleck's Art ContestsEdit
Scotty's Art Contest is taking place on Redwall Wiki she is a good friend of mine and she participated in my Art Contest she was also the first one to submit the first piece of artwork. Here is the link. Scotty Bluefleck Art Contest.
Selound's Art Contests
Edit
Selound is hosting an Art Contest on RW. Here is the link to the info.
Selound's Art Contest
Ad blocker interference detected!
Wikia is a free-to-use site that makes money from advertising. We have a modified experience for viewers using ad blockers

Wikia is not accessible if you've made further modifications. Remove the custom ad blocker rule(s) and the page will load as expected.